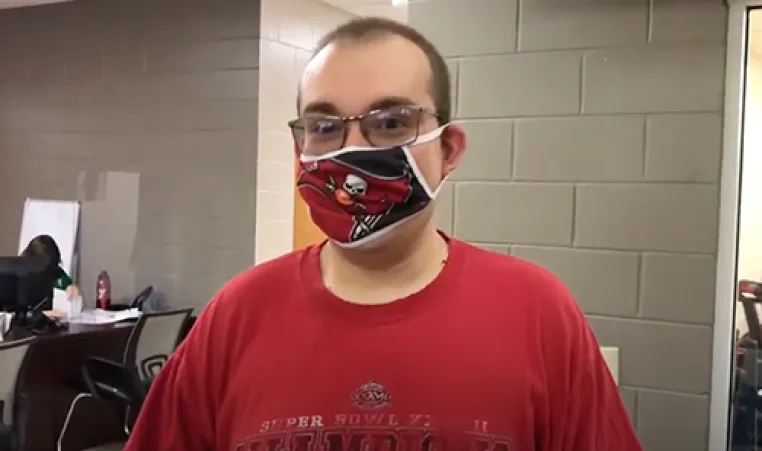 Daniel Demaria, 26, is part of the MASH (Mainstream Adults Sharing Hope) at the North Pinellas YMCA.

Daniel Demaria, 26, has been coming to the North Pinellas Y for about three years. He's part of the MASH (Mainstream Adults Sharing Hope) for adults 18 and up. Watch the video. 

"If you want to get in shape this is the place to be. All the employees are very nice and friendly and they are ready to help meet your goal," he says. "My favorite thing to do at the Y besides going on the treadmill is talking to the wonderful employees. My favorite part about MASH is connecting with each other especially now during these unpredictable times."

Pre-pandemic, adults with special needs (physical and cognitive) met for in-person activities that uplift the spirit and encourage socializing, development of healthy habits and community involvement. 

"The program now is sort of hybrid between in person and virtual. Most of the events have been virtual but we've done a few in person (outdoor movie night, Halloween Trunk or Treat, nature walk in the park). We now use Zoom for the virtual meetings and we've done virtual workouts, virtual painting, virtual scavenger hunt, among many other things," says Seth Milbrand, District Vice President, North Pinellas YMCA.

"I'm hoping and praying that one of these days we can meet again in the multi-purpose room. It just goes to show you with technology and Zoom we're only a touch away at the push of a button," Daniel says.  

If you'd like more information, please contact MASH coordinator Jillian Coleman at jcoleman@suncoastymca.org.