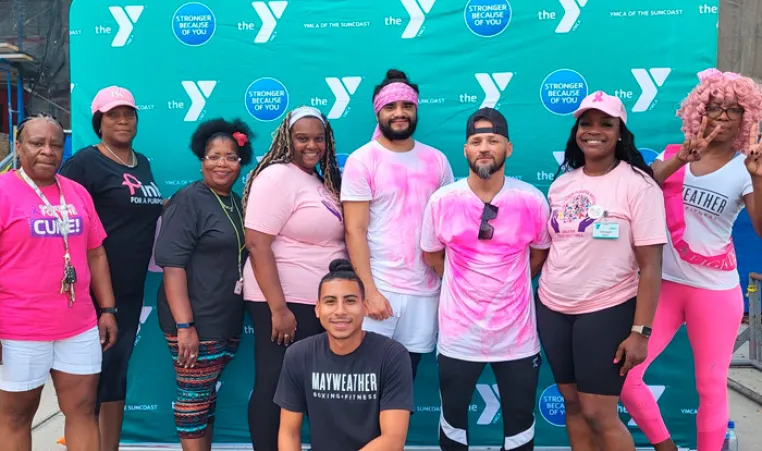 The Greater Ridgecrest YMCA supports those living with and beyond cancer through the YMCA Survivorship & Wellness Program powered by Moffitt Cancer Center. In addition to the year-round program support, the Greater Ridgecrest YMCA hosted their second annual Pink for Purpose weekend on October 6th and 7th.  

The Pink for Purpose Weekend aims to raise funds for healthy living programs at the YMCA of the Suncoast. In addition to the funds raised, the weekend benefits the community by bringing awareness to those who have been affected by cancer.

Cancer knows no boundaries and profoundly impacts individuals, families and communities nationwide. The American Cancer Society estimated that in 2021, there were 1.9 million new cancer diagnoses, and 608,570 individuals lost their cancer battle. The YMCA of the Suncoast is proud to offer support and resources for individuals to get involved, get active and ultimately become healthy when it comes to their spirit, mind and body.
 
Empowering the Greater Ridgecrest Community
 
The Pink for Purpose Weekend celebration kicked off with a family pool party with over 60 individuals in attendance. Saturday's events included a walk/run followed by a Pickle & Pink Pickleball Tournament. This year, the tournament had over 70 players ranging in age and ability! Overall, the Greater Ridgecrest YMCA welcomed 220 individuals, 94 of whom were Y members, participating in the weekend festivities.  

Shannon Wynn, Senior Program Director at Greater Ridgecrest YMCA, shares, "We wear our pink shirts for Breast Cancer Awareness Month, yet we walk-run for all cancers, health issues and missions."  She adds, "This weekend brings our community together. I love seeing a united community working to get active and support their neighbor on their wellness journey."  
 
Cancer tests resilience, challenges relationships and forces many to confront their mortality. However, amidst the hardships, one can find strength, support and hope in their YMCA community. By fostering awareness, providing resources and investing in research, we can collectively strive to alleviate the burden of cancer and improve the lives of those affected by this disease. 
We encourage you to learn more about our YMCA Survivorship & Wellness Program and how you can support your neighbor's wellness journey!
Published October 26, 2023