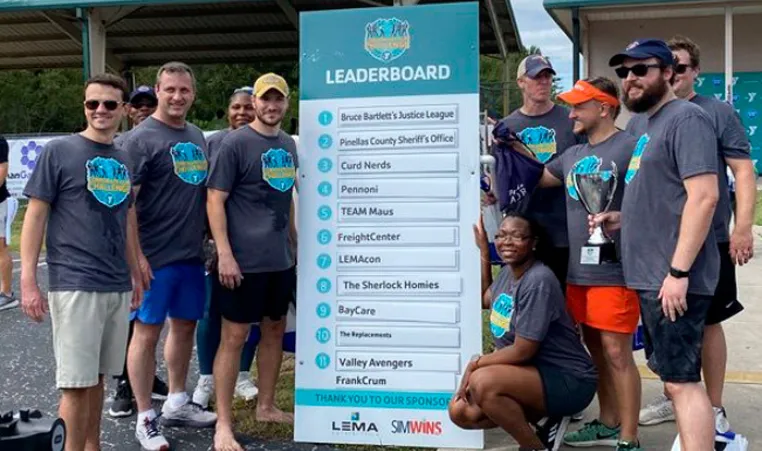 The Bruce Bartlett's Justice League (State Attorney's Office) won the 2023 Corporate Cup Challenge. This is their second win. The fourth annual Corporate Cup Challenge was held on October 14, 2023, at the James P. Gills YMCA in New Port Richey. The Olympic-style, fun-filled event featured 12 teams that went head-to-head in a variety of competitions, including Inflatable Challenges, Human Hungry Hippo, Tug-of-War, Book Relay and Soccer Dart Board, to name a few.
Thank you to everyone for participating. Congratulations to Bruce Bartlett's Justice League (State Attorney's Office) for winning the first-place trophy! Congratulations, Pinellas County Sheriff's Office, on second place and the Spirit Award! They brought their flag and had a chant too; third-place congratulations went to Culver's Curd Nerds, who won in a tie-breaker.
  
"Special thanks go out to this year's event sponsors, most notably our presenting sponsors: LEMA Construction and SIMWINS for their support, and especially our 60+ volunteers who came out to provide a safe and fun event for all of our team participants!" enthused Randy Nilsson, Suncoast's VP of Membership & Corporate Partnership, who led the 2023 Corporate Cup Challenge committee.
  
"We loved seeing the smiles and the camaraderie. Everyone had so much fun. We look forward to seeing everyone at next year's event!" added Nilsson.   

Nick Carideo, Director of Operations for BayCare's Morton Plant North Bay Hospital, was excited to attend. "We are here for the first time with 10 leaders from two hospitals and happy to support the YMCA. It's a great event with team building. We appreciate everything the YMCA does for the community."  

Heather Renna attended with 11 of her Culver's team members. She appreciated the opportunity to bond with her staff.  

"We are loving it. It's my second time at the event, but most of my team is here for the first time, so we needed this. I love the Y."  

Anthony Long, Senior Project Manager with LEMA Construction, said the event was an amazing way to "give back to the community. We are happy to help."
 
Thank you again to everyone for making this event happen.   
Published October 26, 2023