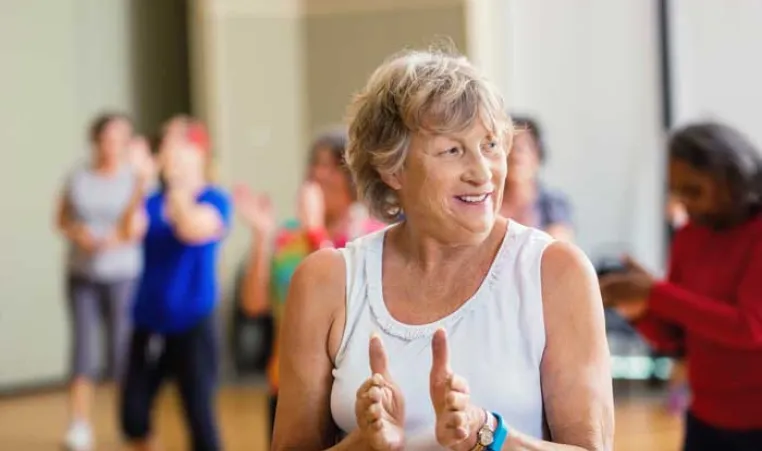 An Active Older Adult participates in the Y's Enhance®Fitness program.
Keeping Seniors Active is key to a Healthy Lifestyle
 The Greater Palm Harbor YMCA serves as a community leader in health and wellness by helping seniors understand the importance of physical activity and a balanced diet through a variety of educational programs. One of the most successful Active Older Adult programs includes the Enhance®Fitness program. 

The age-old saying "move it or lose it" came into play when Kathleen Schlidt, an Active Older Adult at the Palm Harbor YMCA, decided to join her local Y. Kathleen shared her reason for joining the Y– her doctor recommended she incorporate cardio into her weekly routine to help her heart and lose weight. 

"It's hard to maintain a consistent walking schedule in Florida with the heat and the rain," shares Kathleen. "I am over the age of 60 and it's been hard for me to lose weight, but the 30-minute Monday, Wednesday and Friday Enhance®Fitness classes are a great substitute for walking. The class helps keep me accountable versus finding the motivation to put on my sneakers and go for a walk."  

Kathleen and a handful of seniors participate in the evidence-based Enhance®Fitness program at the Greater Palm Harbor YMCA. The instructor teaches participants exercises to help them achieve results including: 
Increased energy   

Better balance  

Improved upper and lower body strength  

More flexibility and range of motion  

Better sleep  

Improved moods and sense of independence  
Active Older Adult Workouts with Modifications 
Kathleen's classmates include seniors ranging in age from 60 – 95 years old. As part of the Y's commitment to a healthy lifestyle for all, each Enhance®Fitness class is designed with modifications for any fitness level. Instructors teach seniors simple, easy-to-learn movements that motivate individuals (particularly those with arthritis) to stay active throughout their life. 

"I love that each instructor meets us where we are at. As we progress throughout the week, instructors help us with our form, play great music and take it easy on us each Friday as we close out the week," states Kathleen. 

Before starting the Enhance®Fitness program, most participants struggled with mobility, arthritis and independence, and through the program, found a renewed sense of energy and purpose in life!  
In addition to the physical and social benefits, research has shown that, among seniors  in the Y's Enhance®Fitness program have about $1,000 less in annual health care costs!  
Learn more about the Active Older Adult program or join our Enhance®Fitness program today!