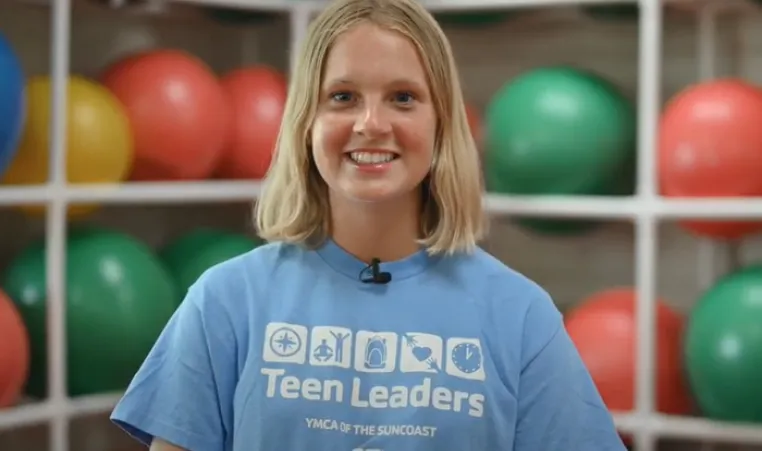 Kayden shares her experience being in the Teen Leaders Program at John Geigle YMCA.

Empowering and supporting young minds is paramount in a world of challenges and opportunities. The YMCA Teen Leaders Program and the Blue Ridge Leaders' School (BRLS) have emerged as two exceptional opportunities that equip today's youth with invaluable skills and experiences.

This month, our John Geigle YMCA sent 33 teens, our James P. Gills Family YMCA sent two teens and our Greater Palm Harbor YMCA sent three teens to the Mountain for a week-long retreat. The BRLS is located on Black Mountain in North Carolina and is lovingly referred to as "the Mountain."
Blue Ridge Leaders' School
Since BRLS was founded in 1922, the Leaders' School has retained its tradition of developing teen leaders in all aspects of the YMCA's physical education, instilling the core values of Caring, Honesty, Respect and Responsibility.

Kayden, a Teen Leader at John Geigle YMCA, shares her favorite part about Teen Leaders Club is the Mountain. She adds, "Spending a week on the Mountain is a life-changing experience connecting with my true self."

Kayden admits being a teen today is hard. Leaders Club is a fun, safe space where she feels comfortable and encouraged to get more involved in her community.

The Teen Leaders Club is a program designed for teens ages 13 - 18 who want to be strong mentally, physically and spiritually. Leaders Club is driven and led by the Leaders with oversight from the Club Advisor at each YMCA.

Sue Car, Teen Leaders Club Advisor at John Geigle YMCA, shares why she enjoys working with the Teen Leaders Club. "Teens today are under more pressure than we ever were." She adds, "I want to do my part to help instill the values and work ethic I was raised with. I also think they are a fun group to work with; they make me feel like a kid myself!"

Sue's own daughter, Hailey, is the current President of John Geigle Teen Leaders Club and shares her experience with the program.

"Some of my best friends are from the Leaders Club. It's great to have friends who understand what you are going through and can help combat the unrealistic pressures we face at school and with social media."

You can learn more about our Teen Leaders Club, how to join and how to get involved today!
Published Friday, July 28, 2023.