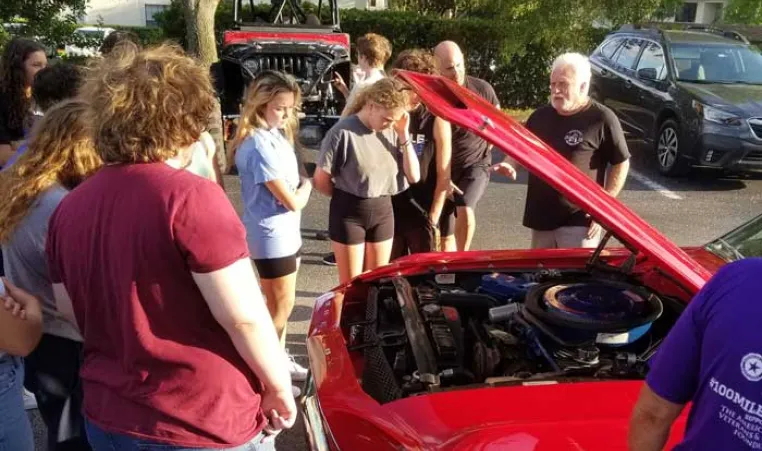 A group of teens gather to learn about all things cars. 

The Teen Leaders Club at the John Geigle YMCA was created to help teens cultivate values, skills and relationships to help them succeed as adults. In 2019, members of this club met with the John Geigle YMCA Advisory Council to discuss ways they could further their development of practical life skills. This meeting led to the creation of "Teen Talks," conversations designed to help teens develop real-world life skills. 

Teen Talks has focused on various topics including interview skills, professionalism, personal finances and anti-bullying. The group also talks about mental health and the importance of treating friends and peers with dignity and respect. 

The Teen Talks conversations are structured similarly to a TED Talk, with an expert in a particular field sharing their knowledge and skills through a short discussion and presentation. 

This month, the Teen Talk focused on Car Care 101 with special guest (and car aficionado) John Geigle. Geigle and other Advisory Council members led 55 teens through a discussion about basic car care, including: 

1.    How to check your tires 
2.    How to inspect or change your oil and washer fluid 
3.    How to listen and feel for break issues 
4.    How to jump-start your car 
"There are countless obstacles teens have to navigate in today's society. Mental health and basic life skills are at the forefront of these daily challenges," shares Seth Milbrand, District Vice President for the YMCA of the Suncoast. "I'm thankful for our donors, volunteers and community partners," says Seth.

"They come together to help nurture the potential of every teen in our community, and it doesn't go unnoticed." 

The Teen Leaders Club at the YMCA of the Suncoast is a year-long, Y-based service and leadership development program for teens ages 13-18. The Teen Leaders Club program provides teens with experience and training to influence college knowledge, academics, positive relationships, life skills and a positive identity. 

Learn more about the Teen Leaders Club and contact your local Y to sign up.