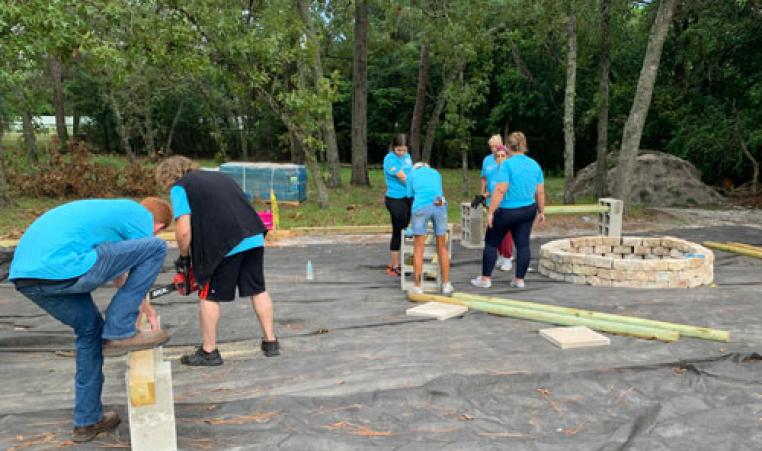 Lowe's and Y volunteers work to beautify outside of the branch thanks to a generous grant.

In celebration of its 100th birthday, Lowe's launched 100 Hometowns, an initiative to complete 100 impact projects this year as part of a $10 million commitment to give back to the communities Lowe's serves. 

Hernando County was one of the lucky hometowns to be awarded $10,000 donated to the Hernando County YMCA. The YMCA is using the funds to build a community garden. Last month, different members from Lowes and the YMCA came together, and got their hands dirty to beautify outside of the branch.

"I actually drew out the picture for this garden probably six or seven years ago," said Melissa Jonas, Maintenance Director, YMCA of the Suncoast – Hernando. "And all this time I've been trying to find a way to bring it to fruition, and when I saw the Lowe's Hometown 100 that they were looking for the 100 top hometowns, I thought this was the perfect opportunity."

The Hernando Y was selected out of more than 2,000 submissions.

"The garden will be run by a great group of active adults, as well as our energetic teen leaders. The active adults have so much knowledge to share, and the teens have the ability to do the harder work," she said. "So, by putting the two groups together, the active adults don't have to give up their love of gardening because they can't do the heavier work anymore, and in turn, they can share that knowledge with the teens, teaching them a valuable lifelong skill.  The younger kids in our Kid Zone can help plant and learn as well, plus the hope is we can help with a little of the food scarcity in Hernando County."

To be a part or learn more about the YMCA Community Garden, call the Hernando County YMCA at 352-688-9622.