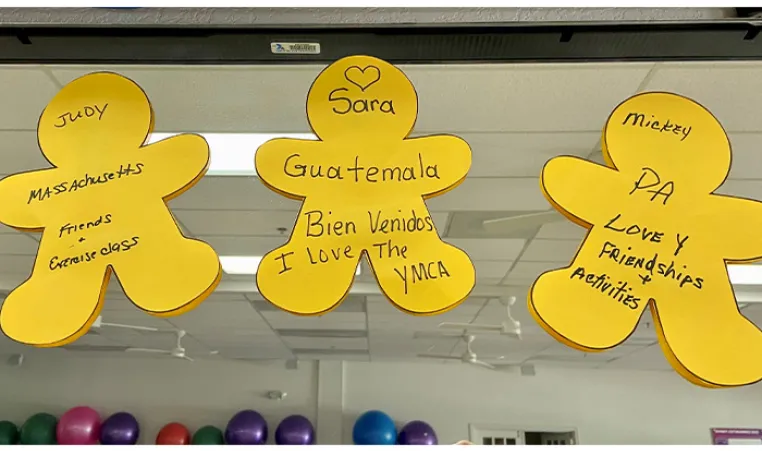 Cut outs made by YMCA members celebrating Welcoming Week.
Welcoming Week
We know communities are stronger and more cohesive when people from all backgrounds have the opportunity to get to know one another and work side by side to advance the common good. The Y is built on this philosophy and that's why we take time each September to recognize Welcoming Week.

This year Welcoming Week celebrated its 10th anniversary, September 9-18th. This national celebration was created by Welcoming America and brings together newcomer immigrants and U.S. born residents at community-based events to promote cross-cultural understanding and raise awareness of the benefits of welcoming everyone!

This year, YMCAs across the Suncoast Region celebrated Welcoming Week in a variety of unique ways.
Connected and Thriving Members
The Clearwater Y in Motion celebrated members by hosting raffles during each group exercise class to encourage members to exercise side by side and advance their physical, mental and emotional health.

Lexy Lopez, the Member Engagement Director at the Clearwater Y in Motion, shares, "We wanted to do the raffle, so every member had a chance to win a small prize and celebrate the meaning of this week while feeling included." 

"It did not matter if they were a member who came multiple times a day or someone who enjoys one class a week; everyone was able to participate. It has been so much fun watching group exercise participants come together and socialize throughout the week!"

Everyone is welcome at the YMCA, and we are proud to showcase the movement of communities striving to be a more welcoming place for all.

"I enjoy Welcoming Week because it gives us all the opportunity to celebrate and learn about one another while building more connections." 

"During the week, my team and I encouraged members to fill out little cutouts that resemble people with information that makes them who they are. There are no rules, only to write what you think represents who you are. Some members wrote where they were originally from, while others wrote their ethnicity or favorite foods. Through doing this, members formed connections and conversations. I enjoy watching our members come together and unite as a community, shares Lexy."

While Welcoming Week is celebrated each September, the Y celebrates our diverse members every day. You too, can get involved and become a member of our welcoming and connected YMCA community when you join today!

Published Monday, Oct. 3, 2022.