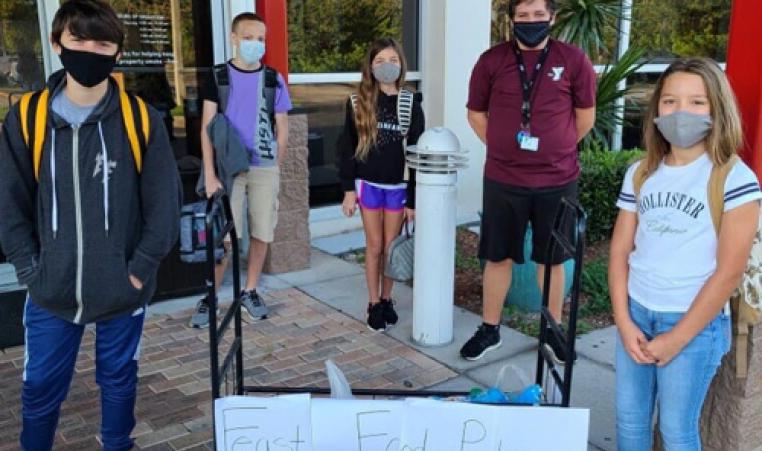 The Greater Palm Harbor's Middle School program students started a food drive to benefit FEAST Food Pantry in Palm Harbor as part of their YMCA Before/Afterschool community service curriculum.

The Greater Palm Harbor YMCA's Before/Afterschool Middle School students, as part of their community service curriculum, teamed up with Feast Food Pantry this holiday season to feed hungry families. The students identified food insecurity as their project and created a food drive for Y families to participate in.

Pre-COVID-19, FEAST was serving about 1,000 people in the Palm Harbor and surrounding communities. During the pandemic, they are currently serving nearly 3,000 people monthly. So, their shelves are empty to say the least. 

"We have been so impressed by the work of the middle school students at the Greater Palm Harbor YMCA," says Tamara Black, FEAST president and Suncoast YMCA Advisory Board member. "In less than three weeks, they have already collected over 300 pounds of food to help families in our community. These students have helped us immensely by categorizing, developing an inventory and checking the expiration dates of their donations. As the number of families we serve continues to increase during the pandemic, the students' assistance has been tremendous. Our collaboration has also allowed these students to learn more about the needs of our community and how they can truly make an impact. The FEAST family is so very grateful for their assistance in helping families in need in our community."

The following canned goods & non-perishable items are being collected at the Greater Palm Harbor Y at 1600 16th St in Palm Harbor:
Canned soup
Cereal
Dry pasta
Peanut butter
Side dishes
Canned fruit
Canned meat
Canned vegetables
Canned pasta
Canned beans 
In addition, the community is invited to bring donations as the price of admission to the Greater Palm Harbor Y's annual holiday event with Santa on Saturday, December 5 from 10am-2pm.