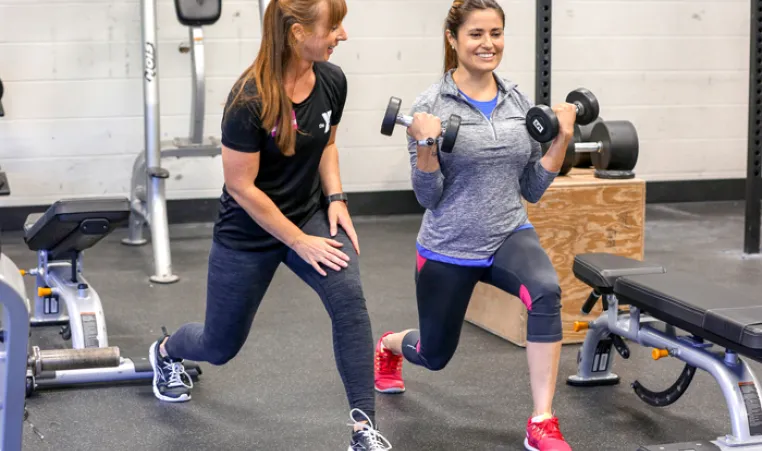 A personal trainer works with Weight Loss Program participant.

The YMCA of the Suncoast serves as a community leader in health and wellness by helping families and individuals understand the importance of physical activity and a balanced diet through a variety of educational programs.

These programs include the Diabetes Prevention Program, Personal Training, Enhance Fitness, Moving for Better Balance and our Weight Loss Program.
Programs that Create Lasting Change
The YMCA's Weight Loss program is a research-informed program that focuses on achieving a healthy lifestyle. Participants meet once per week for an hour in a small group, in a classroom setting.

Each session is centered on a different wellness topic around creating supportive environments, goal setting, physical activity and healthy eating.
Program details include:  
12 weeks - 1 hour session per week 

Option to continue after 12 weeks 

Must be 18 years or older 

Designed for people who are new to the Y, but open to all 
A YMCA Weight Loss program participant shares, "I like this program because it stresses small steps and building upon SMART goals and also provides the educational part. I am sleeping better, less stressed, off two medications, have increased exercise. Now I have the confidence and the tools to ultimately get in better shape, and I don't feel as alone in the struggle because of the group dynamic." 

Many individuals struggle with maintaining a consistent workout schedule while eating right and consuming the right amount of water. The YMCA's weight loss program ensures members have the tools and resources needed to lose weight and keep it off – even during the challenging holiday months.

Summer Cruff, Director of Community Healthy at the YMCA of the Suncoast, shares details about the program.

"The YMCA's Weight Loss Program provides a supportive environment where participants can set goals, receive information about healthy eating and other tools to help them achieve their weight loss goals."

The Weight Loss Program is essential for members who are looking to lose weight outside of a gym setting.

Summer adds, "Exercise is certainly an important part of a healthy lifestyle and also a weight loss plan. Adding the weight loss program gives participants some other important tools to assist them in achieving their weight loss goals like: healthy eating, how to manage stress and get enough sleep, mindful eating, and the important role physical activity plays in weight loss- and overall wellbeing."

Learn more and take advantage of our Weight Loss Program today!

Published Monday, Jan. 30, 2023