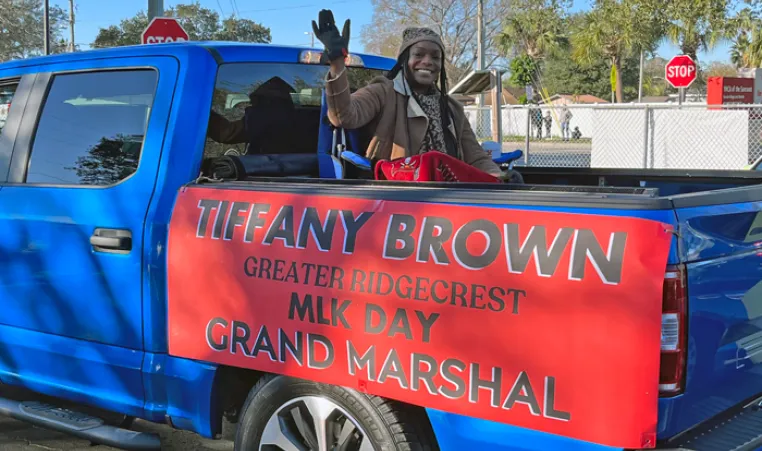 Tiffany Brown, parade Grand Marshal leading the Greater Ridgecrest Martin Luther King Jr. Day parade.

Volunteering is an excellent New Year's' Resolution because it provides numerous benefits for the community and the health and happiness of the individual who commits to donating their time, talents and treasures to a cause.  
Celebrating the Life and Legacy of Dr. Martin Luther King, Jr. 
This January, we remembered and highlighted Dr. Martin Luther King, Jr., a pioneer in the world of service and change, with the celebration of the MLK Day of Service on Monday, January 16th, 2023.

For roughly 29 years, the MLK Day of Service has encouraged individuals to volunteer their time to improve their communities.

Staff, members and volunteers at the Greater Ridgecrest YMCA participated in a cleanup beautification project at Ridgecrest Park, along with a parade beginning and ending at the YMCA with a ceremony and fish fry. Each event allowed the Ridgecrest community to gather in fellowship and celebrate the life and legacy of Dr. King.  
A Connected Community  
Tiffany Brown, Executive Director at Greater Ridgecrest YMCA, shares, "Participating in MLK Day helps bridge the gap between the community and YMCA. MLK Day continues relationships with community leaders while determining the needs of the community." 

The Greater Ridgecrest community has one common goal – that every individual becomes the healthiest version of himself or herself.

Ms. Wanda McCawthan, the Greater Ridgecrest Y Togetherhood lead, shares, "Today represents a day of removing differences and division while coming together as a healthy and united community."

Tiffany adds, "When a community is working together to give their best and take care of each other, we become a better community. Being part of an engaged community gives people a sense of belonging." 

Tiffany is happy and proud to be supporting the community she was born and raised in. She believes the townspeople should serve the community they dwell in and by serving their community, they will be able to uplift neighbors and work to enhance the Y's mission that everyone has a healthy mind, body and spirit!  
You can volunteer your time, tales and treasures at the Greater Ridgecrest YMCA or a YMCA near you today!


Published Monday, Jan. 30, 2023.