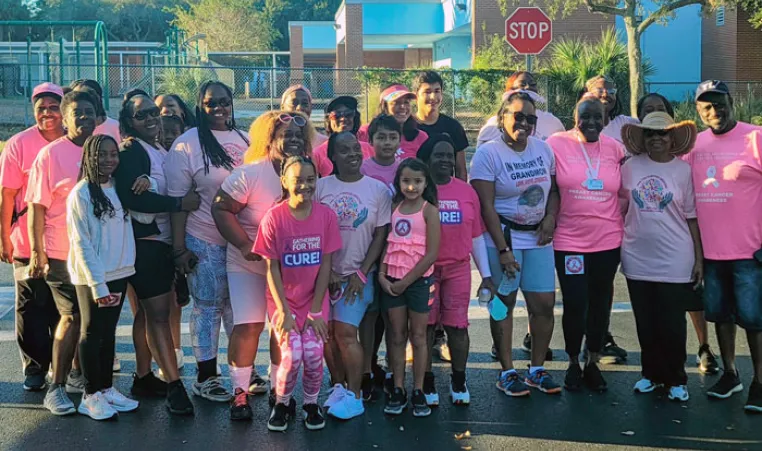 A group gathered before the Pink For Purpose Weekend 1-mile walk.
Awareness and Education
For the last seven years, the Greater Ridgecrest YMCA has recognized Breast Cancer Awareness Month in a variety of unique ways. This year's celebration was no different with the three-day "Pink For Purpose Weekend." The Pink For Purpose fundraiser raised awareness and educated the community about the LIVESTRONG® at the YMCA cancer support program, as well as other healthy living initiatives at the Greater Ridgecrest Y.

The weekend offered a variety of activities to the community including a pool party, a 1-mile walk, pickleball tournament and a brunch. All events included opportunities to donate to the Y's healthy living initiatives while spending time with neighbors and the Y community.

"This weekend was such a joy and exciting to plan and be engaged in.  If we were to fill our gym with people and ask how many know or knew someone with cancer, I am sure that every hand would be raised," said Shannon Wynn, Membership Director at the Greater Ridgecrest YMCA.

"To see the community partners come out, such as Shiloh Missionary Baptist Church, Pinellas Multi-Ethnic Young Life, Transformative Strategies Inc., and Largo Junior Packers, and support [the event] is a testimony to how the community enjoys connection and support of others."

Shannon shared the true reason behind the weekend celebration and fundraiser, to improve the community's overall health and well-being, and kickstart the LIVESTRONG® at the YMCA program in 2023. 
Supporting Cancer Survivors 
Cancer takes a tremendous physical and emotional toll on those affected and their families. Studies show that physical activity helps people affected by cancer. Regular exercise can reduce fatigue, boost self-esteem and improve strength and physical endurance in individuals following cancer treatment.

LIVESTRONG® at the YMCA is a free, 12-week program that offers support, guidance and personal training from certified cancer wellness coaches. The program focuses on physical and social activities for patients before, during and after cancer treatment. 

In addition to physical benefits, the program also focuses on the emotional well-being of survivors and their families by providing a supportive community. By focusing on the whole person and not the disease, LIVESTRONG® at the YMCA helps people cope and move beyond their cancer diagnosis with activities to engage the spirit, mind and body.

Learn more about the LIVESTRONG® program and contact the Greater Ridgecrest Y or your local YMCA.

Published Monday, Oct. 31, 2022.