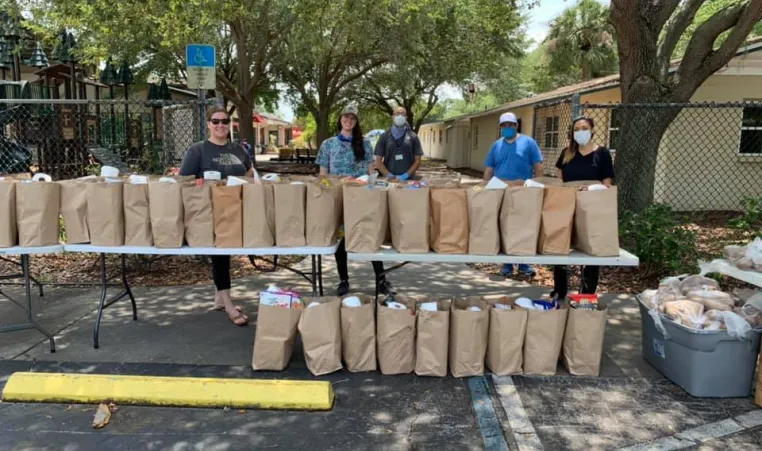 The YMCA of the Suncoast - High Point Branch is excited to continue its new affiliation with several faith-based churches to help needy families in the High Point community.

A fourth outreach event was held on Saturday, April 25. YMCA staff and church volunteers distributed bags of fresh, healthy produce, non-perishable pantry food, even turkey legs, and other essential items like toilet paper, baby wipes, diapers and formula.

The Y is working with three local churches: BLDG 28 Church, Calvary Church and Feather Sound Church.

"With schools out, it is imperative that we keep serving the needs of the families in the community. Our hope is this type of work and collaboration continues long after the coronavirus pandemic," said Carlos Mercado, YMCA of the Suncoast Community Outreach Director. "We are serving on average 150 homes with these outreach events."

The distribution took place in the parking lot of the High Point YMCA branch at 5345 Laurel Pl., Clearwater, FL 33760.

If you'd like to help with our team relief efforts - donations can be dropped off at Calvary Church (on Drew St. and McMullen Booth Rd.) every Wednesday from 11:00 am to 1:00 pm. They are collecting the following items: 14.5 oz can corn, 14.5 oz can green beans, 14.5 oz can mixed vegetables, 14.5 oz can pork n' beans, 14.5 oz can Chef Boyardee, 14.5 oz can fruit, Large can soup, Large can pasta meat sauce, Tuna fish, Standard size box cereal, Hamburger Helper, Spaghetti, Box macaroni and cheese, Instant mashed potatoes, Instant pancake mix, Oatmeal, Peanut butter, Protein bars, Saltine crackers, Rice, (*No glass containers, please).

High Point YMCA partners with volunteers from local churches for an outreach event on Saturday, April 25.